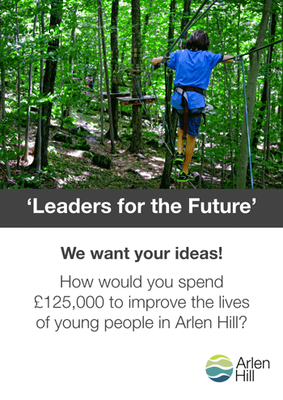 At Arlen Hill, we believe we have a responsibility to support young people in becoming leaders of the future. We have a duty to provide them with the opportunities and tools to thrive and lead fulfilling lives.
That's why we're delighted to have established the 'Leaders for the Future' fund: £125,000 to be used in supporting projects that provide transformative and educational experiences for 12-16 year olds.
We want to ensure this fund really does make a difference to the community. That's where we need you! We want to hear your ideas on how best to spend this money. We know there are plenty of parents, educators, carers – and young people themselves – out there with great ideas for developing future leaders.
We are looking for ideas which fulfil one or more of the following themes:
Educational: ideas which provide young people with informative experiences that can build their skills and their knowledge. 
Recreational: ideas which offer young people fun, healthy experiences that can build self-esteem and positive relationships.
Community-based: ideas which give young people opportunities to participate in the Arlen Hill community and to learn how to be responsible citizens.
In this initial phase, all ideas will be considered; we will then draw up a shortlist of the best ideas to be put before the funding board. Please note, we will not be able to take forward ideas which cost more to implement than the fund allows. Although there is no limit on the number of ideas which are taken forward, cost-effectiveness will be a core consideration.
Step forward and post your ideas below!
2

ideas

matching your filter